Khushi Kapoor (aka Khusi Kapoor) is an Indian social media personality based in Mumbai.  Khushi is the youngest daughter of Bollywood star actress Sridevi and film-producer and director Boney Kapoor.
Early Life & Education
---
Khushi Kapoor was born on 5 November 2000 in Mumbai, India into the prestigious Kapoor family. Kapoor's father, Boney Kapoor is a movie director and producer, whereas, her mother, Sridevi Kapoor is an all time popular movie star in Bollywood. Kapoor has an elder sister, Jhanvi Kapoor, who as of 2016, is preparing for an entry into Bollywood. Kapoor's close relatives include popular figures of Bollywood, such as actors Anil Kapoor, Ranbir Kapoor and the popular actress Sonam Kapoor.
+ See Also: Jhanvi Kapoor, Tania Shroff 
As of 2016, Kapoor lives in Mumbai with her parents and her sister, Jhanvi. She attended the prestigious Dhirubhai Ambani International School in Mumbai for her primary and secondary level schooling.
Khushi Kapoor

NATIVE NAME:

खुशी कपूर

BIRTHDAY:

5 November 2000

BIRTHPLACE:

Mumbai, India 

PROFESSION:

Internet Celebrity   

NOTABLE WORK:   

None yet

AWARD(S)

N/A

HEIGHT:

5' 7"

EDUCATION:

HSC

BOYFRIEND: 

Single 

(as of 2016)

 

NATIONALITY: 

Indian

ETHNICITY: 

Asian/Indian 

RELIGION: 

Hindu   

FAMILY MEMBERS:

Boney Kapoor (father)

Sridevi (mother)

Jhanvi Kapoor (sister) 

FOLLOW ON:
Prospects of Entering Bollywood
---
Though her elder sister, Jhanvi Kapoor, is expected to appear in a Bollywood movie by mid- 2017, nothing has been made public about Khushi's plans for entering the Bollywood movie industry. In one interview, he mother Sridevi said that Khushi was too young for films. She said:
"She is young for films. I want both my daughters to get a  good education, I missed out on it. I would work from a very young age and though I was good at studies, I had to support my family and got busy with films."
Often in media interviews, her mother Sridevi has said that she doesn't specifically wish her daughters to become actresses since the job needs a lot of hard work, dedication and tremendous pressure from everywhere.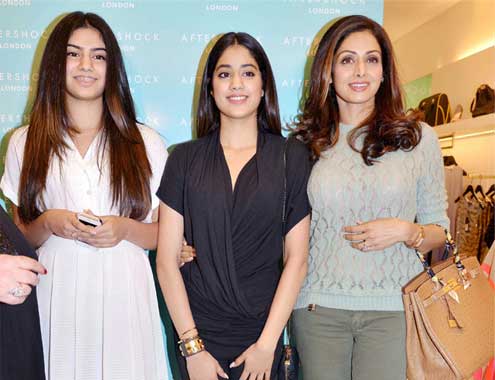 Khushi Kapoor on Social Media
---
As of 2016, Khushi Kapoor is an active user of photo-sharing site Instagram and has more than one hundred and fifty thousand followers on her Instagram account. She also maintains a private Facebook account.
In January 2016, she published a post on Instagram mainly slamming her haters. Her text was widely shared one social media and prominent media houses in India reported the incident. In the post, apparently targeting the haters that posted negative and critical comments about her online, she said:
"I post my pictures because I feel good and confident. I put out these pictures not because I want to show off or try to be anyone or anything else. I have my own sense of style and my own way to think and me putting out a picture that's accessible to so many people is taken more of an opportunity to judge me or my looks, clothes or anything else."
She further talked about feminism and how girls were denouncing each others instead of supporting each other. She said: "It's sad how in this day and age where feminism is finally getting the attention it deserves, girls still feel the need to tear each other down and indulge in body shaming." She ended her long post with a positive message: "Let's be kind to one another, love always".