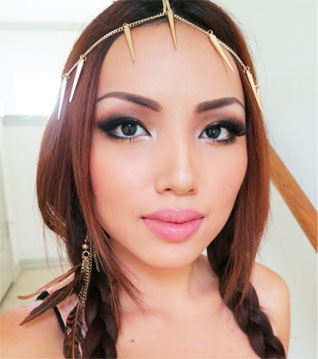 Promise Tamang (aka Promise Tamang Phan), born on 29 July 1989 in Kathmandu, Nepal is a make-up artist and a social media star based in California and Los Angeles, USA.
Tamang is famous for her transformative makeup techniques and so far has transformed herself to look like several celebrities such as Angelina Jolie, Johnny Depp, Scarlett Johansson, Michael Jackson, Kate Middleton, Kim Kardashian, Adriana Lima, Selena Gomez and Lady Gaga.
As of October 2016, Tamang's Youtube channel has nearly 4.5 million subscribers and she has been featured extensively in international media outlets, including the Huffington Post and The Daily Mail UK. She has also been a guest on ABC's Good Morning America, where she said that she used her 'face as a canvass' for 'crazy transformations.' Famous Birthdays, an online portal featuring famous people's birthdays, listed her as the most popular person born in Nepal.
Promise Tamang Phan celebrity makeover as Adriana Lima.

NAME:

प्रोमिस तामांग

BIRTHDAY:

29 July 1989

BIRTHPLACE:

Kathmandu, Nepal

EDUCATION:

High School

PROFESSION:

Make-up Artist  

HEIGHT:

5' 7"

HUSBAND:

Steve Phan

NATIONALITY: 

American 

ETHNICITY: 

Asian, Tamang 

RELIGION: 

Christian   

NET WORTH: 

 >$10m

FOLLOW ON:
Promise Tamang's Early Life
---
Promise Tamang was born as Pratigya Tamang in Kathmandu, Nepal's capital city. She moved to the United States of America at the age of 15. She spent her childhood in Kathmandu mostly with her parents. Promise completed her basic education in Nepal and continued her further studies in the USA. Once in the US, Promise changed her name from Pratigya to Promise, just to make it more Western and easier to pronounce. She has said in interviews that she was a makeup freak since her childhood and tried all sorts of makeup tricks from her mom's wardrobe.
+ You May Also Like: Aayush Rimal, Lex Limbu
Tamang's YouTube Fame & Makeup Guru Career
---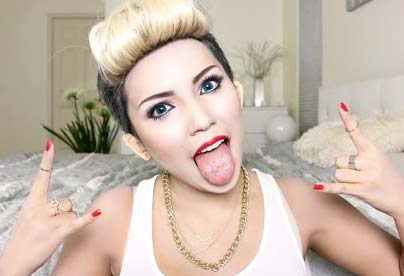 As a lover of Nepali cultural dance, the first YouTube video she posted was of her dancing in a Nepali song. After she watched James Cameroon's 2009 international blockbuster Avatar in the theatre, she gave it a try with Avatar's Naa'vi makeup. The video was posted online on 12 January 2010 and became an instant hit. Since then Tamang has done dozens of celebrity makeup transformations and is herself considered an online celebrity. As of December 2017, makeup transformation is her full-time job and she isn't employed anywhere else.
Personal Life
---
Promise Tamang is married to Steve Phan, an American citizen of Vietnamese origin. Steve can be often seen filming Tamang's videos and assists her with technical issues of video-making and post-production. Talking to a Nepali journalist, Tamang revealed that Steve approached her after he saw her Avatar makeup video, and since then they were first friends and then a couple. Tamang has said in interviews that when in the US, she spends her time mostly in California and LA, but also enjoys the peacefulness of her native land, Nepal. Tamang has once kept a monkey as a pet and now has petted a bat.
IMPORTANT Announcement: Since my married name 'Phan' has being creating a lot of confusions (Being mixed up with another YT personnel). I have decided from now on to go by my last name before my Marriage which is 'Tamang'. I would really appreciate it if you guys could refer as 'Promise Tamang' from now on instead of 'Promise Phan'. Also I want to clear that Steve and I have a most wonderful relationship so this decision wasn't because any disagreement between us. Thank you guys for understanding !!!
"Also I realized its probably going to make my dad really Happy since he couldn't have a son to carry his name out," she added.
Promise Tamang on Social Media
---
Promise Tamang, as of 2017, is actively engaged in all prominent social media networks. As of December 2017, she has nearly 4.5 million YouTube followers, and more than a million followers on Facebook. She also regularly posts updates on Twitter and her make-up photos can be seen on her Instagram account, which is followed by a million people.