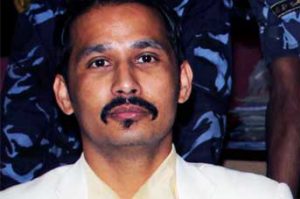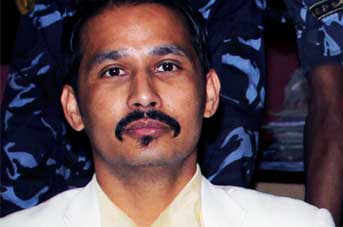 Rose Rana (alias Saroj Thapa) is a Nepali movie producer, actor and a gangster with a history of various criminal activities. In 2010, Rana was found guilty in a human trafficking case by a court in Kahtmandu and was sent to jail for six months.
Rana is also an active member of the Nepali Congress party. In 2015, he was elected for the post of Nepali Congress election constituent representative from Pyuthan 2.
In August 2016, Rose Rana survived a machete (khukri) attack at a cafe in Kathmandu. Reportedly, the attack was carried out by gang members of don Dinesh Adhikari Chari who was killed in a police encounter in 2014.
Early Life & Movie Career
---
Rose Rana was born in Syaulibang village of Pyuthan District into a middle class family. His childhood and official name is Saroj Thapa, but once he moved to Kathmandu and started getting involved in entertainment and gangster activities, he changed his name into Rose Rana, apparently in an attempt to showcase himself as a member of the Nepali Rana elites.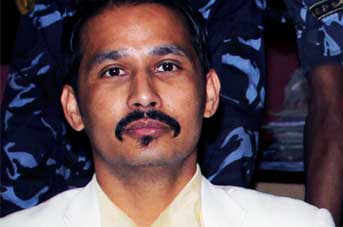 After completing the School Leaving Certificate (SLC) examinations, Rana moved to Kathmandu and started his career first as a movie actor and later as a producer. As of 2016, he has produced more than half a dozen movies and some of them have been commercially very successful. Some of the movies Rana produced include Khalanayak (Villain), Don, Dosti (Friendship), Takkar Dui Mutuko (Clash of Two Hearts), and Ma Chhu Ni Timro (I'm Your's). He has mostly produced action movies that portray underworld realities and show troubled lives of Nepali gangsters.
Criminal Activities & Jail Sentence
---
An ambitious personality eager to make quick and easy money, Rose Rana started investing in dance bars and stripper night clubs in Kathmandu. According to a report by popular Nepali online news portal OnlineKhabar, Rose Rana was  the first person to establish  a stripper club in Kathmandu.
Around 2005, Rana invested in and established a dance bar called 'Show Girls' in Baghbazar, Kathmandu and a decade later expanded dance clubs into different parts of the city.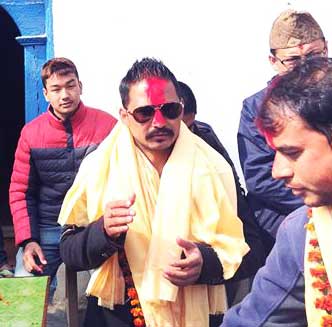 In 2010, Rose Rana was accused of trafficking poor, underaged Nepali girls from mountains into Kathmandu and virtually forcing them into prostitution. According to court reports, girls were forced to perform naked dance in his night clubs. Found guilty of human trafficking by the court, he spent 6 months in a Kathmandu jail.
Even after that, he has been into police custody on several occasions for different reasons.
In August 2016,  shortly after a movie he had produced was released, Rose Rana was attacked with a machete (khukri) at a cafe in Kathmandu. He survived the attack with minor injuries. Media reports claimed that the attack was carried out by supporters of don Dinesh Adhikari Chari who was killed in a police encounter in 2014. They believed that Rana was the one who hinted police about Chari's whereabouts in Kathmandu.
Personal Life
---
Rose Rana didn't made his marital status public until 2012, apparently in an attempt to have extra-marital affairs with Nepali actresses an. Even after 5 years after his marriage, he publicly claimed that he was still single. In 2012, he was publicly
seen with his wife
 Upama KC at a movie theatre in Kathmandu. His wife is said to be a fashion designer. Reportedly, the couple married in 2007 in Chitwan and held a quiet and private wedding ceremony.
Rose Rana was once again arrested by the police after her long-time girlfriend Saujanya Subba complained of Rana's threatening behaviour. In a media interview, Saujanya claimed that throughout their affair, Rose had been claiming that he was single and had divorced his wife to marry her. When it became apparent that he had not divorced his wife, she refused to continue her relationship with him. Angry of her cold response, Rose threatened to "kill her and her entire family." The case was concluded with a mutual settlement and Saujanya later married to one of her long-time friends, Bhupen Chand.