Sushila Karki (aka Sushila Karki Subedi, सुशीला कार्की (सुवेदी) in Nepali ) is the first female  Cheif-Justice at the Supreme Court of Nepal. She was appointed Chief-Justice in July 2016. Before that she served as an Acting-Cheif-Justice and Justice at the Supreme Court of Nepal.
During her appointment as Chief-Justice, at the hearing in front of the Parliamentary Committee, she asked that she should not be taken merely as a female 'show piece'.
During her tenure as a Supreme Court Justice, Sushila gave verdicts to various high-profile cases involving incumbent ministers, former ministers and senior politicians and is considered one of the few brave, competent, professional and unbiased judges in Nepal.
Early Life & Education
---
Sushila Karki was born on 7 June 1952 in Shankarpur village of Biratnagar, Morang District and spent her childhood there completing primary and secondary education. In 1972 she completed a Bachelor of Arts (BA) degree (majoring in English and Psychology) from the Mahendra Morang Campus, Biratnagar. After that, she moved to Banaras, India for further studies and completed a Post-Graduate Degree in Political Science in 1975 from the Banaras Hindu University.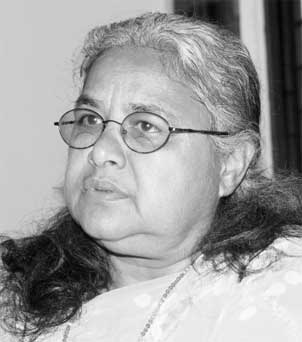 Native Name: सुशीला कार्की (सुवेदी)
Born: 7 June 1952, Morang
Education: BA, LLB, MA
Profession: Justice at the Supreme Court of Nepal
Subsequently, in 1978, Sushila completed a Bachelor in Law (LLB) degree from Tribhuvan University, Nepal, which allowed her to work as an advocate. In an interview with Setopati, Sushila said that she completed the law degree on her own without attending university classes and the fact that his uncle and brothers were practicing law inspired her to pursue her career in law.
Professional Life & Sushila Karki As First Female Chief Justice of Nepal
---
On 29 March 1979 Sushila Karki obtained a license and an affiliation to work as an advocate from the Nepal Bar Association. Apart from working as a law-practioner, she worked as an assistant teacher in Mahendra Multiple Campus, Dharan in 1985.
Sushila Served as Bar President of Eastern Zonal Court from 1988 to 1989 and as Bar President of Appeal Court Biratnagar from 2002 to 2004. On 20 December 2004, Sushila was appointed as a senior Advocate of Nepal Bar Association.
In January 2009, Sushila's career took a new turn when was appointed an ad-hoc justice at the Supreme Court of Nepal. After less than 2 years, in November 2010, she was appointed a permanent justice at the Supreme Court of Nepal. Sushila has also been a member of Judge Society Nepal, International Association of Women Judges and of International GLOW program.
Though a popular figure in Biratnagar, Sushila initially maintained a low-profile in Kathmandu. After people's movement II was successful in 2006, she was chosen to be a member of the Constitution Draft Committee. Her remarkable performance in the committee made her a popular figure. Her unique performance in the parliamentary hearing, before she was appointed a supreme court justice, once again made her popular.
During her tenure as a Supreme Court justice she sent an incumbent minister and several other former high-profile politicians to jail in corruption cases. When asked what inspired her to take a brave decision like that, she often says that justice is not a matter of brevity or cowardice. All what she had seen was the evidence and gave verdict accordingly. "In front of a judge, nobody is rich, poor, big, small, male, female, known and unknown and we can't be hard, ruthless or compassionate (i.e. without any basis)," she said in an interview.
After she was appointed Nepal's Supreme Court Chief Justice in the summer of 2016, a few media outlets ran stories questioning Sushila's rather questionable past as a justice. She was accused of neglecting DNA results in one of paternity disputes she handled as a judge. She rejected any wrongdoing and claimed that she was following the law and its provisions.
Addressing a program, she later said that Nepal's legal system was polluted because lawyers' only intention is to make money by any means.
2017 Impeachment Attempt
---
On 30 April 2017, the governing Maoist Centre and Nepali Congress parties launched an impeachment motion to Parliament against Chief Justice Karki, accusing her of bias and interfering with executive powers. As a result, Karki was automatically suspended as Chief Justice. However, following a national uproar against the impeachment attempt and an interim oder issued by the Supreme Court, the ruling parties withdrew the impeachment motion. Karki's impeachment motion was launched just before weeks of her regular retirement schedule, and was relinquished  after weeks of uncertainty and domestic as well as international pressure.
Karki's impeachment attempt came in the wake of a legal battle concerning appointment of the Chief of Nepal Police and a few high-profile corruption cases, where 3 former chiefs of Nepali police had been sent to jail.
Personal Life
---
Sushila Karki is married to Durga Prasad Subedi whom she met while studying in Banaras. Durga Subedi was a popular youth leader of Nepali Congress at that time. Sushila and Durga have one son, Prasant Subedi. She lives with her husband and other family members in Dhapasi, Kathmandu.