Ahan Shetty (aka Ahaan Shetty) is an Indian model and an upcoming actor who is reported to debut into Bollywood by the end of 2016. He is the son of popular Bollywood actor Suniel Shetty and businesswoman and philanthropist Mana Shetty. Ahan's sister Athiya Shetty is also an actress and appears in mainly Bollywood movies.
Though Ahan hasn't appeared in Bollywood movies yet, he has been on tabloid spotlight in India for his relationship with Tania Shroff and also for his post-workout Instagram photos.
According to media reports, as of 2016, Ahan is expected to appear in a Bollywood movie, through Salman Khan's production, which is famous for giving break to children of Bollywood stars.
Early Life & Education
---
Ahan Shetty was born on 15 January 1996 in Mumbai, India and spent most of his childhood there. At the time of his birth, his father, Suniel Shetty, was already a popular movie star in Bollywood and his mother, Mana Shetty, was starting to get involved in real-state and interior designing business.
+ Read Also: Tania Shroff, Krishna Shroff  
Ahan attended a prestigious private school in Mumbai, before moving to the USA to pursue a training in acting and filmmaking. While as a school boy, Ahan was interested in sports and spent most his free time listening to music and playing the guitar. At school, he was, reportedly, the captain of his school football team.
NATIVE NAME:

Ahan Shetty

BIRTHDAY:

15 January 1996

BIRTHPLACE:

Mumbai, India 

PROFESSION:

Actor, Model 

AWARD(S)

N/A

HEIGHT:

5' 9"

EDUCATION:

HSE 

BOYFRIEND: 

Tania Shroff 

(former)

 

NATIONALITY: 

India 

ETHNICITY: 

Asian/India

RELIGION: 

Hindu  

FAMILY MEMBERS: 

Suniel Shetty (father)

Mana Shetty (Mother)

Athiya Shetty (sister)

FOLLOW ON:
Preparation for Bolloywood Entry
---
Ahan Shetty, as has been reported since 2015, is preparing for an entry into Bollywood through Salman Khan Production, which offered a successful break to his sister as well. In media interviews, his father Suniel Shetty has said that Ahan had been following a strict work-out regimen to prepare himself for Bollywood.
Talking to DNA India, at the time of the release of Ahan's sister Athiya's first movie, his mother, Mana Shetty said: "Ahan was the one who always wanted to get into the industry; not Athiya. Athiya wasn't sure. It's only when she did Drama in the high levels at school and travelled and performed, that she got into it."
Ahan Shetty & Tania Shroff
---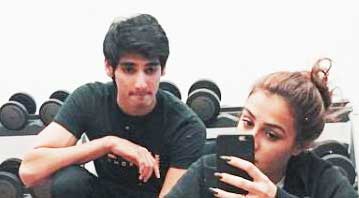 According to various media reports, Ahan Shetty was in a relationship with Tania Shroff for more than three years. Tania Shroff is a London-based non-resident Indian (NRI) and the daughter of Indian business businessman Jai Shroff and his former wife Romila. However, due to personal differences and Ahan's decision to spend more time on his fledgling acting career, the couple broke off in late 2015. An Indian tabloid reported in July 2016 that Tania went on to date an Italian man after severing her ties with Ahan.
Ahan Shetty on Social Media
---
As of 2016, Ahan Shetty's public presence on social networking site seems very limited. His Facebook and Instagram accounts are not public and his twitter account doesn't have any updated feeds.