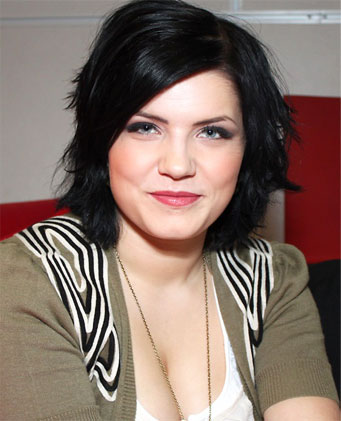 Suvi Teräsniska (full name Suvi Pirjo Sofia Teräsniska, born 10 April 1989 in Kolari, Finland) is a Finnish pop singer from Oulu, Finland. Her most notable singles include, "Hento Kuiskaus" (Slim Whisper), "Jos menet pois" (if you go away) and "Täydellinen elämä" (perfect life). As of 2017, she has recorderd and published 8 albums, of which 2 are Christmas albums. All of her albums, excluding the latest one "Sinä olet kaunis" (You are beautiful) have received gold certification in terms of sale.  Teräsniska's songs have been written by famous Finnish song writers, such as, Jussi Rasinkangas, Toni Nygård, Petri Somer, Lasse Wikman, Jonne Aaron ja Saija Aartela.
Early Life
---
Suvi Teräsniska was born in a hospital in Rovaniemi Finland because there was no hospital in her town, Kolari, that performed C-section surgeries at that time. Teräsniska moved to Oulu, with her family, when she was seven. As a young aspiring singer, she initially sang for the Finnish choir band Musarit. In autumn 2005, composer Jussi Rasinkangas contacted Teräsniska and recorded a demo song, which was distributed to various record companies. After a while, Helsinki Music Company informed that they were interested both in Teräsniska and the recorded song. By the end of the fall, the record company announced that it was ready to release Teräsniska's debut single.
In 2006, Teräsniska got in touch with popular Finnish singer and Night band's founder Olli Lindholm and asked if she could work as a background singer. Lindholm agreed to her proposal and Teräsniskä sharted singing background songs at Night band's  gigs.
2007-2009 & First recordings
---
Teräsniska's first single "Sanoja vaan" (Words only) was released in July 2007. In the same year, two more songs were released, "Valkoinen valhe" (White lie) in October and "Hei mummo" (Hi granny) in December.
Teräsniska's  first album "Särkyneiden sydänten tie"  (The road of broken hearts) was released in 2008. The album remained on the official Finnish album list for 24 weeks, reaching up to 11th position. In the year 2010, however, the album sold to platinum levels. Teräsniska's another single "Hento kuiskaus" (Delicate whisper) was a tremendous success and remained in the popular hit chart for 18 weeks during 2008-2009 and for two weeks during the spring 2009.
NATIVE NAME:
Suvi Teräsniska 
BIRTHDAY:
10 April 1989 
BIRTHPLACE:
Kolari, Finland 
EDUCATION:
High School  
PROFESSION:
Singer 
NOTABLE WORK:
Sinä olet kaunis 
AWARD(S)
Many 
HEIGHT:
165 cm 
HUSBAND:
Simo Aalto 
NATIONALITY:
Finnish/Suomalainen 
ETHNICITY:
White/Caucasian 
RELIGION:
Christian  
SALARY
Unspecified 
 
NET WORTH:
> €5m
FAMILY:
Yes 
CHILDREN:
 2
FOLLOW ON:
In the spring of 2009, Teräsniska graduated with a Higher Secondary Degree (lukio in Finnish) from Madetojan Music School in Oulu. In the same year, she moved to Tampere from Oulu. Later, in the same year, she was chosen as Oulu's "Person of the Year". This was a lucky year for her, as she also won the year's 'Best Newcomer' title from Radio Iskelmä.
By the end of 2009, Teräsniska's second album 'Tulkoon Joulu' (Let Christmas Come) was published. It was a collection of Christmas songs. The album became a tremendous hit and by 2012 sold to double platinum.
2010 and Third Album
---
In autumn 2010, Teräsniska's third album Rakkaus päällemme sataa (Love rains over us) was published, and it was another hit and spent several weeks on the chart. In 2011, the album was sold double platinum. The album's first single "Jost menet pois" (if you go away) has become one of her most all time popular songs.
In 2010, Teräsniska moved back to Oulu. In the same year, she led Oulu Choir in  Nelonen TV channel's 'choir war' competition.
In February 2011, Suvi Teräsniska won three awards in Iskelmä Gala – Best Female Artist of the Year, Best Album and Best Entertainer of the Year.
2011-2013: Relentless Success Continues
---
In October 2011, Teräsniska published her fourth album Pahalta piilossa (Hiding from the evil). It was yet another success for Teräsniska. The album sold platinum within one year and was awarded 'Best Album of the Year' in Iskelmä Gaala 2012.
In February 2013, Teräsniska published a tribute album to Yö band, it was called Hän tanssi kanssa enkeleiden (she dances with the angels). In the same year, she released new songs for her upcoming album Pohjantuuli (Northern Wind). In October 2013, she won the Syksyn Sävel competition with one of the singles in the album, Täydellinen elämä (Perfect Life). In November 2013, she was awarded the Kullervo Linna prize.
2014-2015: Second Christmas Album and Gig Break
---
In November 2014, Teräsniska released her second Christmas album Joulun Henki (Christmas Spirit) which remained in the chart list for 8 weeks. The album was the 7th most-sold albums in Finland in 2014, with sells of 14,143 copies.
After Teräsniska completed a tour promoting her second Christmas album, she took a musical break as she had her first child in 2015. During her maternity break, she, nonetheless, performed once to celebrate the victory of Oulun Kärpät ice hockey team in Finnish national ice-hockey championship.
In autumn 2015, Teräsniska's new collection Täydellinen elämä – Suurimmat hitit'  (Perfect Life – the biggest hits) was released.
2016-: Vain elämää and 8th Studio Album
---
Suvi Teräsniska was one of the participants of Vain elämää, a popular reality TV show of musical artists in Finland
In May 2016, it was declared that Suvi Teräsniska was one of the participants of Vain elämää, a popular reality TV show of musical artists in Finland. Teräsniska's participation and performance in the show was lauded by many. In August 2016, Teräsniska won the Iskelmä-Finlandia award worth 10,000 Euros.
In the same year, she released the first single of her eighth studio album Sinä olet kaunis (You are beautiful). The song was titled "Elämäni miehiä" (The men of my life).
Because she was expected her second child, she decided to take a break from musical tours and only resumed her musical journey in late 2017.
Suvi Teräsniska's Personal Life
---
Suvi Teräsniska was engaged  to her boyfriend Simo Aalto in 2012. Aalto has worked as a sound and light manager of her band. The wedding ceremony took place in Kolari's old church in August 2014. As of December 2017, the could has two boys. Their first child was born on 5 March 2015 and the second one in October 2016.
Suvi Teräsniska on Social Media
---
Teräsniska has a robust presence on social media. As of December 2017, she has more than a hundred thousand followers on her Facebook account and nearly forty thousand people follow her on Instagram.