Ridhima Pandit (aka Rajni or Ridima Pandit) is an Indian actress and model based in Mumbai, India. As of 2016, Pandit mostly appears in TV serials and TV commercials, and occasionally performs in theatres.
Pandit is mostly popular for her role as a sci-fi daughter-in-law in the comedy serial Bahu Hamari Rajni_Kant, where she performs the role of a talented robot. The TV series is broadcast by the channel Life OK.
+ You May Also Like: Nitibha Kaul, Sameeksha Jaiswal 
Early Life & Education
---
Ridhima Pandit was born on 25 June 1990 in Mumbai, India and spent most of her childhood there. After completing a higher secondary education from a Mumbai-based private boarding school, she attended the University of Mumbai to study sociology. After successfully graduating with a major in sociology, she later received a post-graduate training in the same subject. She has also received an intensive course in event management and planning.
NATIVE NAME:

रिधिमा पण्डित

BIRTHDAY:

25 June 1990

BIRTHPLACE:

Mumbai, India

PROFESSION:

Actress, Model  

FAMOUS FOR:   

Bahu Hamari Rajni_Kant

AWARD(S)

Gold Awards (2016)

HEIGHT:

5' 5"

EDUCATION:

MA (Sociology)  

BOYFRIEND: 

Eshan Roshan

NATIONALITY: 

Indian 

ETHNICITY: 

Asian/Indian 

RELIGION: 

Hindu  

FOLLOW ON:
Career as a Model and an Actress
---
Pandit started her career as a stage performer in a theatre group run by Nadira Babbar, an Indian theatre actress and director. After spending 2 years as a stage performer, and later taking up ordinary jobs for 2 years, she entered the advertising and modelling world, and worked for more than 150 TV commercials and appeared in various magazine and online advertisements, at times accompanying with other Bollywood stars. She has appeared in advertisements of popular consumer products such as Sun Silk shampoos and Fair & Lovely beauty creams.
However, she has said in media interviews that she always wanted to be an actress. In an interview given to the Free Press Journal, she says that acting had always been her passion since her early childhood. She says:
"Actually at the age of 6-7, I always wanted to act and that was something that I was never vocal about. Until I turned 19 years old I never really acted. Even in my school annual shows I always danced but never did skit or an act." 
"Eventually, I started doing ads. I did ads for 2 years…I was tired of being in ads and wanted to create different roles and hence I chose the best medium that is television." 
Pandit got her first acting role in a TV series called Chamak. While her role wasn't a prominent one in that series, she got the chance to network and an opportunity to showcase her talent. Later she was roped as a lead actress in the series Bahu Hamari Rajni_Kant, a comedy series produced by Sonali Jaffer, where Pandit acts as a humanoid robot opposite Karan Grover, who performs as Shaan.
Pandit's role in the series Bahu Hamari Rajni_kant received mostly positive critical reviews and she was awarded the Best Debut Award at the Gold Awards 2016. According to the Times of India, It was the first major award she ever received as a TV actress.
Ridhima Pandit's Controversies
---
In August 2016, the International Business Times, a media outlet based in India, reported that Pandit was not cooperating well in the shooting of the series Bahu Hamari Rajni_kant. It was reported that she was often late and took a lot of time for shooting makeup. She was also accused of making scenes when asked about clarification for her negligence.
Pandit, however, denied the claims and said that it was natural for artists to get late sometimes, and as a female artist she needed more time for makeup. She also added that some people were jealous of her success and were spreading false rumours.
Personal Life
---
In September 2016, Bolloywood Life and other Indian tabloids reported that Ridhima Pandit was dating Eshan Roshan. Roshan is a cousin of popular Bollywood actor Hritik Roshan and works, as of 2016, as an assistant movie director.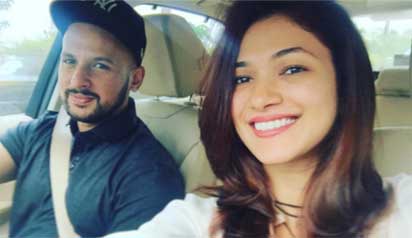 Pandit has said in media interviews that she loves singing and reading fiction. She often mention Paulo Coelho and Gillian Flynn as her best writers. She also says in interviews that she wold love to work with Imtiyaz Ali one day. Reportedly, She loves dogs and finds them very adorable and is scared of snakes.
Ridhima Pandit on Social Media
---
Pandit has a popular fan base in social media. She has been an active users of social networking sites and, as of October 2016, she has nearly 800 posts on her Instagram account, which has more than 80,000 followers. She defines herself on Twitter as, "born to act…Rajni the Robot. She is also active on Facebook.