Jeevan Bahadur Shahi (or Jiwan Bahadur Shahi, जीवन बहादुर शाही in Nepali) is a Nepali politician belonging to the Nepali Congress Party. An aeroplane pilot by training, Shahi represents Humla constituency 1 in Nepal's parliament.
In August 2016, Shahi was appointed Nepal's minister for Tourism & Civil Aviation in the Maoist Central and Nepali Cogress coalition goverment led by senior Maoist leader Pushpa Kamal Dahal 'Prachanda'.
Early Life & Education 
---
Jeevan Bahadur Shahi was born on 14 March 1969 in Khapunath-6 of Humla. After completing the School Leaving Certificate exams from Budhanilkantha School and an intermediate degree in science (ISc.), Shahi left to the USA to train as a pilot.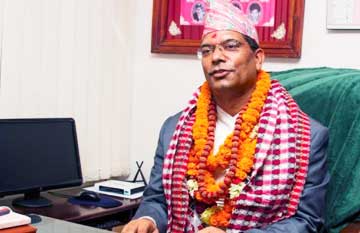 After he was a trained as a pilot at an aviation school in the USA, he was offered a job at Asiana Airlines, but instead of taking that offer he returned to Nepal and tried to get a post at Nepal Airlines. When his attempt to get employed in Nepal was unsuccessful, he decided to enter politics so that he could work for the historically and geographically marginalised people of Karnali. Shahi also holds a master's degree in political science.
Political Career
---
Jeevan Bahadur Shahi started off his political career as a cadre of the Nepali Congress party in the late 1990s. He has been the party's district committee president, mahasamiti member and a member of the central committee. Until 2012, for more than a decade, he was the chief of Nepali Congress Schooling department.
In 2008, Shahi contested during the constituent assembly elections from Humla-1, but he was defeated by CPN Maoist's Karna Jit Budhathoki. In 2013, however, Shahi was elected in the second constituent assembly election from the same constituency. In parliament, he served as a member of the parliamentary development committee before swearing in as a minister.
After being appointed as the minister for tourism and civil aviation, Shahi stressed that aviation safety would be his top priority as a minister and that he would try his best to lift EU's ban on Nepali planes to fly in the European skies.
Personal Life
---
Shahi is married and has two sons and a daughter.