Shilpa Pokhrel (शिल्पा पोख्रेल in Nepali) is a Nepali model, beautician and an actress based in Kathmandu, Nepal. Shilpa is popular for her role in dozens of music videos that she did during her career as a music-video model, and also for her controversial relationship with Nepali film producer and director Chhabi Raj Ojha.
As of 2016, Shilpa has acted in more than 100 music videos and has worked as a lead actress in 5 commercial movies.
Early Life & Education
---
Shilpa was born in Pokharia, Biratnagar, in the Morang District and spent her childhood there. After completing the School Leaving Certificate (SLC) exams, Shilpa moved to Kathmandu at the age of 15 to continue further education and pursue a career in Nepali entertainment industry.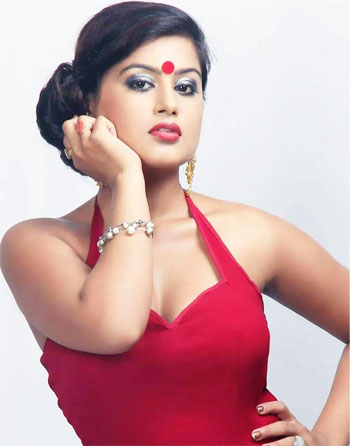 Native Name: शिल्पा पोख्रेल
Born:  Morang, Biratnagar
Profession: Model, Actress
Notable Work: Lazza
Height: 5ft 2 inch
Career As a Model  
---
Shilpa Pokhrel started her career as a model and initially acted in television shows of Kantipur Television. In addition, she also appeared in several audiovisual advertisements and TV commercials.
Shilpa started her acting career from Gharbeti Baa (The Landlord Father), a comedy series of Katntipur TV. After appearing in 16 episodes of Gharbeti Baa, Shilpa decided to leave the episode and started modelling for music videos, which were just mushrooming in Nepal. Shilpa has appeared in dozens of music videos of popular Nepali artists, such as Anju Pant and Swaroop Raj Acharya.
Movie Career
---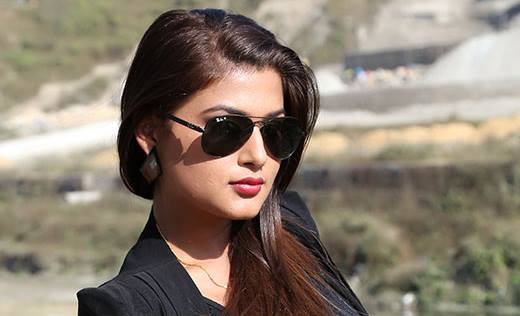 Shilpa debuted into Nepali movie industry in 2014 from Chhabi Raj Ojha's Lazza. After Lazza became a commercial success, she continued to appear in other movies produced by Chhabiraj Productions.
In 2015, she did an action movie called Hawaldar Suntali where she gave action stunts as police constable Suntali. In 2016, Pokhrel appeared in Karishma Manandhar's Fagu. The movie couldn't perform well in the box office.
In 2016, Shilpa did two movies, Brindaban and Kismet-2.
In 2015, Shilpa received the Best Actress Award at the D Cine Award 2015 (EXT-2) and in the same year was nominated as a best debut actress 2015 at NEFTA film awards.
Personal Life
---
Shilpa Pokhrel was likened to Rekha Thapa when she first appeared in Chhabi Raj's movie. Like rekha, Shilpa was also born in Morang, Biratnagar and it was Chhabi Raj Ojha who gave break into the movies.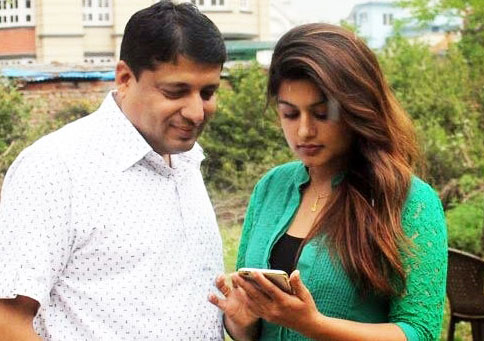 In an interview with OnlineKhabar, a popular online portal in Nepal, Shilpa said that she didn't compare herself with Rekha and wasn't in the film industry to compete with her. She further said that Rekha was an established star and she wouldn't reach Rekha Thapa's stardom anytime soon, if ever.
In the same interview, which was taken in 2014, when asked about her relationship with producer/director Ojha, Shilpa said that Ojha was like her father and rumours of their marriage were baseless.
In 2016, however, Nepali tabloids widely reported that Chhabi Raj Ojha and Shilpa Pokhrel were indeed in a relationship and marriage preparations were underway.
In an interview with a video blogger, Shilpa said that she came from a family that was active in the Nepali Congress party and she liked late Sushil Koirala, Nepal's former prime minister and a leader of the Nepali congress party, as a good politician. In the same interview she said that she doesn't like politics in general and didn't have any favourite Nepali female politician.
When asked about her favourite artists in her field, she said that when it came to Nepali movie actors she liked Daya Hang Rai and, and added that she was impressed by the acting of Niruta Singh and Namrata Shrestha. In Bollywood, Ranbir Kapoor and Deepika Padukone were her favourites.
When asked about her habits, she said that she is a lazy person and spends most of her time watching movies or computer games. Reportedly, she used to go to the gym before, a habit she has discontinued lately.