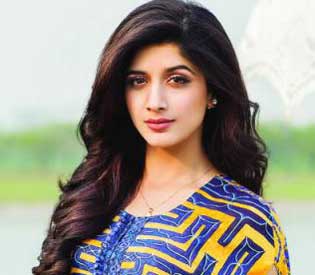 Mawra Hocane (aka Mawra Hussain) is a Pakistani actress, model and a video jockey (VJ) based in Islamabad, Pakistan. Hocane mostly appears in Pakistani/Urdu TV serials and soap operas and runs television programs in Pakistani TV channels.
In 2016, Hocane debuted in Bollywood through Sanam Teri Kasam (translated into English as: I Swear On You My Beloved), a Hindi-language movie jointly directed by Radhika Rao and Vinay Sapru . In the movie, Hocane was given the role of the lead actress.
Hocane is a devoted Muslim and, reportedly, takes her faith very seriously. She was born as Mawra Hussain, but later changed her surname into Hocane, when she was still a teenager.
NATIVE NAME:

ماورا حسین

BIRTHDAY:

28 September 1992

BIRTHPLACE:

Karachi, Pakistan

PROFESSION:

Actress, VJ, model  

FAMOUS FOR:   

Sanam Teri Kasam

AWARD(S)

HUM Awards (nom.)

HEIGHT:

5' 7"

EDUCATION:

LLB, Bachelor in Law 

BOYFRIEND: 

Single 

(as of 2016)

 

NATIONALITY: 

Pakistani 

ETHNICITY: 

Asian

RELIGION: 

Muslim  

FOLLOW ON:
Early Life & Education
---
Hocane was born as Mawra Hussain on 28 September 1992 in Karachi, Pakistan. Her father Mushtaq Hussain worked as an officer in the Pakistani army and her mother was a housewife. Hocane has an elder sister, Urwa Hocane, who is also a popular VJ, model and actress based in Pakistan. Hocane has a younger brother, Ins E Yazdan, who is also a Pakistani actor and mainly appears in Pakistani TV series.
+ See Also: Urwa Hocane, Ins E Yazdan
Hocane's family moved to Islamabad when she was still at young age. She spent her childhood in Islamabad and attended a prestigious private school with her two siblings. After completing secondary education, she joined Bahria College in Islamabad and completed FSC-MED, a 2-year-long pre-medical program that prepares students to pursue a degree in medicine.
Surname from Hussain to Hocane
---
Mawra Hocane decided to change her surname from Hussain to Hocane when she was 14. At that time she was studying at grade 7. In an interview with the Express Tribune, a popular English-language daily based in Pakistan, she said that she decided to change her surname because there were too many girls with the common surname Hussain, and she wanted to be unique. She expected, though, that everyone would pronounce her surname as before as 'S' was replaced by 'C'. However, people pronounced that as 'Hu-Caine' and that has made her surname unique in Pakistan and abroad.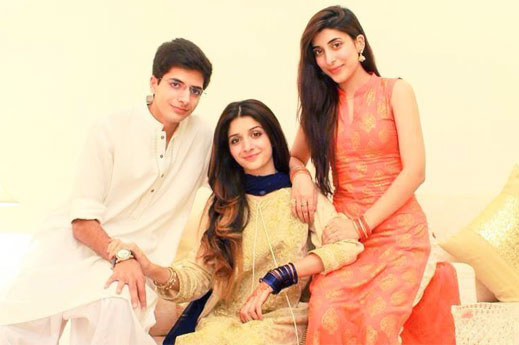 In the same interview she said that since she didn't specifically inform her teachers about her unique surname, almost all of her academic papers bear only her first name. Her official papers, such as her passport, have her birth name, which is Mawra Hussain.  When asked whether the surname change had proved to be lucky for her, she said that it was her first name, Mawra (which means outstanding and was given to her by her mother), that had proven to be auspicious.
Her sister, Urwa, too changed her surname to Hocane later on, while the rest of the family members maintain their ancestral surname, Hussain.
Mawra Hocane As a TV Host, Model and Actress
---
Before entering the television world, Hocane started to perform as a theatre artist in local theatre groups. Her stint as a theatre artist didn't last long, but reportedly gave her necessary acting skills and inspired her to pursue a career in the entertainment industry.
She later started working as a VJ at ARY Musik, a Pakistani Urdu-English music channel established in 2003. Hocane then started appearing in Pakistani TV serials, mainly associating herself with the Hum TV Network. Her popularity soared in Pakistan when she appeared in TV series like Aahista Aahista, Ik Tamanna Lahasil Si and Nikhar Gaye Gulab Sare.
As of 2016, she still appears in Pakistani TV series and, reportedly, aspires for a Bollywood comeback.
Entry into Bollywood & Sanam Teri Kasam
---
In January 2016, Mawra Hocane debuted in Bollywood through Sanam Teri Kasam. In the movie, she plays the role of Saraswati "Saru" Parthsarthy, a young librarian, who comes from a middle-class traditional Indian family. She falls in love with an unlikely candidate, but later is diagnosed with an untreatable form of brain cancer. Bollywood actor Harshvardhan Rane appears opposite Hocane.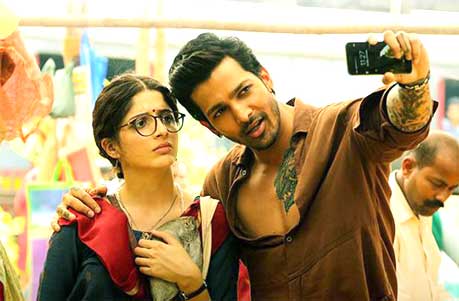 The movie received mixed reviews from critics and did an average performance in the box office, grossing approximately US$1.3 million. The Express Tribune reported that, despite Hocane's impressive performance, the movie was overall an unsuccessful project since it had, among others, a lot of unnatural dialogues and very predictable ending.
As of 2016, Hocane has reportedly signed up for 2 upcoming Bollywood movies, but no details have been made public.
Personal Life
---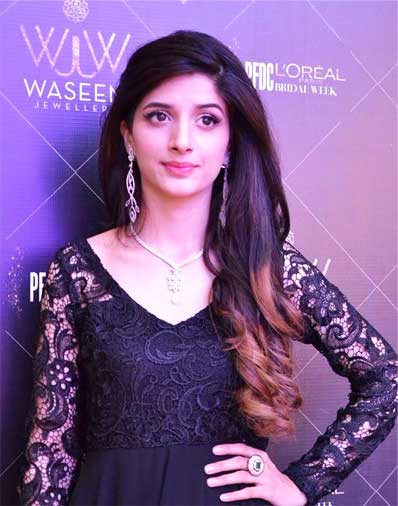 In media interviews, Mawra Hocane often says that she loves reading fiction and travelling to new places. In addition, she also says that she enjoys cooking and gardening while she is at home. Hocane is a devout Muslim and, reportedly, takes her faith in a serious way. She often takes into her social media profiles to post verses from the Quran and other Islamic quotes as well.
In April 2013, it was rumoured that Hocane got engaged to Pakistani actor Asad Siddiqui. However, Hocane slammed the rumours as 100% wrong since all the so-called engagement photos were from the duo's upcoming TV series.
In September 2014, many tabloids in Pakistan reported that Mawra Hocane's boyfriend was Aamish Azhar as the two were seen many times together in public. At one point, Hocane, in fact, changed her relationship status from single to engaged. However, by 2015, her relationship status was back to single.
Hocane says in media interviews that she is a staunch fan of Bollywood actor Ranbir Kapoor. Hocane and Kapoor share the same birthday, which is September 28. In March 2015, Kapoor sent a 15-seconds-long video message through video sharing site Dailymotion to Hocane saying that she was "extremely beautiful and extremely talented" and that he hoped to see her soon. The video ended with a flying kiss. Later in the same year, Hocane visited the Kapoors in their home and attended Ranbir Kapoor's mother Neetu Singh's 58th birthday.
In July 2016, in an interview given to the Times of India, Hocane said that she was most inspired by Priyanka Chopra and had learned a lot from working in India.
Controversies
---
In August 2015, Hocane created a widespread controversy in Pakistan when she tweeted in support of the controversial Bollywood movie Phantom. The movie was banned in Pakistan for supposedly being anti-Pakistani. Phantom features a group of Indian operatives hunting down a Pakistani terrorist after a Mumbai terrorist attack.
"#phantom is against terrorism. A terrorist can't belong to any country. A terrorist is a terrorist." Hocane's controversial tweet read. 
Hocane, however, tweeted saying that the movie was against terrorism and not against Pakistan. After her tweet,  the hashtag #BanMawra widely spread across Pakistan and in the Pakistani diaspora abroad. However, some people in and outside Pakistan supported her, arguing that the movie wasn't anti-Pakistan, but anti-terrorism. For instance, a tweet from the twitter account belonging to Karachi Post read: "Mawra Hoccaine is a brave girl, a voice of sanity in this ocean of madness."
In the wake of the controversy, she wrote a long post defending herself and saying that the controversial tweet was an "instinctive reaction to a hate post" in her social media feed. She also said that a film's content could not "challenge the dignity" of her country.
Mawra Hocane on Social Media
---
Mawra Hocane has an active presence on different social networking sites. In an interview with Miss Malini, an Indian lifestyle web portal, she said that Instagram was her favourite social networking platform. She defines herself as an actor, big dreamer, big foodie and globe-trotter on her twitter and Facebook accounts.